Introducing the Samurai Fleet Builder at DriveThrughRPG.com!

S H O P
Build your own Samurai fleet with different boat types.
Create small transport boats, medium kobayas and big sekibune and atakebune!
Ideal for roleplaying or wargames. Combine with paper, plastic or metal miniatures.
INCLUDES
small blunt bow boat (apx 12cm / 5″ length)
small pointed bow boat
medium (blunt bow) kobaya (scouting and transport) (apx 25cm / 10″ length)
medium (pointed bow) kobaya (scouting and transport)
big (pointed bow) sekibune (apx 50cm / 20″ length!)
big (blunt bow) atakebune
easy and advanced building options
detailed building instructions
small and medium size boat hull, blunt and pointed bow


medium size hull with kobaya super structure, easy and advanced version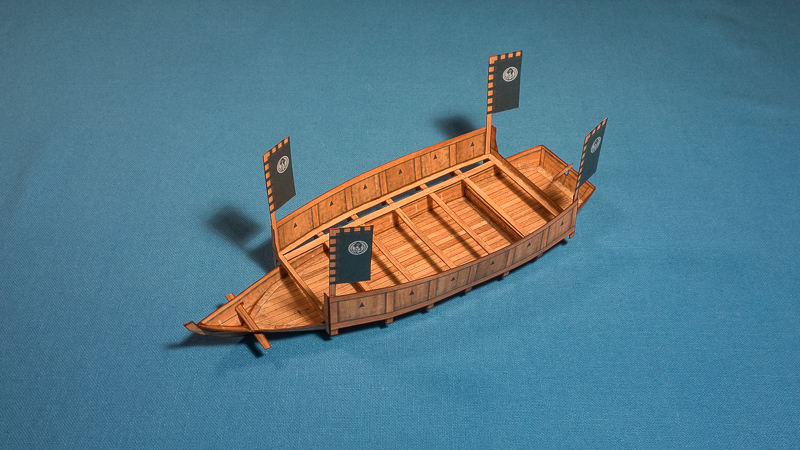 sekibune and atakebune


If you want build with interior space

PRINT, BUILD and GO!
The Samurai Fleet Builder set comes in PDF files, which you can configure and print as many times as you want.
Simply print on cardstock paper (90lb. or 160gsm min recommended) and build as described in the detailed instructions
Supports both US Legal and A4 paper sizes.
TEXTURE VARIATIONS
Choose from a variety of color and texture styles to build your fleet.
Build new pristine boats or dirty weather beaten ships!


Select one of three wood colors

Nobori / Clan flags
Decorate the ships with customizable Nobori / Clan flags from the separate free set!

25-30mm SCALE
Printed at 100% the set will fit miniatures in the 28-30mm range perfectly. Adjusting the print scale you can print at other scales if required.
SOFTWARE REQUIREMENT
You will need the free Adobe Acrobat Reader 7.0 or later in order to use these PDF files.
ACTION GALLERY
See the Samurai fleet in action (miniatures not included).


Fitting 75 1″ base minis on the deck of the big ship!


setting sails!


quarrel on deck

Paper figures by David Okum and Jess Jennings, other figures by Games Workshop and LEGO.nings, other figures by Games Workshop and LEGO.</i>